Meet Our Team
Maviny Hyatt
President
Maviny is a Junior in high school, and she has lived in the Tucson area for nearly her whole life. At age five, she began taking piano lessons and has loved playing the piano ever since. In 2022, Maviny joined her school's show choir and discovered a passion for singing and dancing as well. She currently serves as the choir secretary. Some of Maviny's other hobbies include crocheting, hiking, swimming, and spending time with her large family. Maviny has been a member of Notes of Hope Youth since its beginning in 2019, and she really enjoys sharing her love of music with the community.
Katelyn Hyatt
Social Media Manager
Katelyn Hyatt is a 6th grader who has been playing the piano for about 6 years. She enjoys playing smooth, quiet melodies but occasionally likes to play a fast song. In her free time, Katelyn loves playing sports such as soccer, swimming, and volleyball. This is her first year as a member of Notes of Hope Youth, and Katelyn is very excited to serve the organization by videoing concerts and uploading them to YouTube to share our music with the world.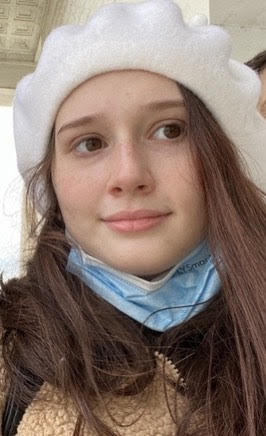 Allison Jennings
Senior Advisor
Allison Jennings is a senior at Ironwood High School, Tucson, Arizona. She has been studying music theater singing from professional teachers for 6 years. Allison starred in "Music Man" as Amaryllis with Arizona Theater Company, which is featured here. Allison has noticed the recent problem due to COVID-19, that our senior citizens have been lonely and not having much to look forward to. Allison is empathetic for our senior citizens who have contributed so much to the community. With her musical talents, she feels it's only natural to contribute back with music.
Sean Dai
Member
Sean is a freshman at Basis Oro Valley. He started playing piano at age 6 and recently started playing the violin. He enjoys the romantic and contemporary periods of music the most and also enjoys playing piano arrangements from movies, anime, and orchestral pieces. He hopes to bring emotions such as excitement to the audience when he plays.
Quantin Fang
Member
Quentin is a third grade student at BOVP who started learning piano at 6. He enjoys learning and playing piano with his piano buddy- his dad. He also likes composing small piano pieces and improvising popular melodies like "Jingle Bell", "Happy Birthday", etc. Quentin also started learning cello from the summer of 2022. During his non-school hours, he likes sports such as soccer and Brazilian Jujitsu. He also frequently works as a volunteer to serve the community and to share his talents with others.
Meddy Quan
Member
Meddy Quan was born in Michigan and began her piano study at the age of five. She started learning from Pianist Christopher Harding at the age of seven. She currently studies piano with Dr. Svetlana Arakelova since 2019 after moving to Arizona. She enjoys her playing very much. Meddy won the 1 st place in TMTA Merit Scholarship Auditions 2022, 2 nd prize in Charleston international competition 2021, 3 rd prize in Advanced category of Rocky mountain keyboard competition 2021, and 3 rd place of American Protégé international piano and strings competition 2021.
Elise Yin
Member
Elise is a 7th grader at BASIS Tucson North in Arizona. She started playing violin at the age of eight and was a member of the advanced orchestra program at Manzanita Elementary School. Elise loves music naturally, maybe because her parents named her after a famous music piece – Für Elise. She also plays Saxophone in her school band. Elise is a great volleyball player, and a top girl chess player. She hopes to use her little talent to make an impact to the society.
George Li
Member
George Li is a sophomore at BASIS Oro Valley. He started playing saxophone in 5th grade for his school band. Since then he's played in 1st chair for both his school band and a local pep band. He won 2nd place in the Arizona Musicfest Winds, Brass, and Percussion section (2022) and was selected as 2nd chair for the U of A High School Honor Band (2023).
Aaron Li
Member
Aaron is a current fourth grader in Basis Oro Valley. He started playing piano at the age of six and violin at nine, plus a seven month professional study in flute. He believes true music can bridge the hearts and souls of total strangers. Aaron is also a gifted artist, born vocalist and enthusiastic tennis and chess player. More importantly, he is a warm-hearted helper at school, and devoted community service volunteer through music and chess.
Nicandro Guereque
Member
Nicandro is a 16-year-old singer-songwriter from Tucson, Arizona. Nicandro began playing piano at five, drums at seven and picked up a guitar at ten. He has played professionally since he was 13 at local businesses, weddings, and fundraisers, including Arizona Arts Live and Tucson Folk Festival. His musical influences include Johnny Cash and Chris Cornell because of their soulful songwriting and poetic lyrics. Nic is an honors student at Tucson High Magnet School and hopes to attend the University of Arizona to study music and film.
Ethan Li
Member
Ethan is a current fourth grader in Basis Oro Valley. He has been appraised by his musical teachers for his good ear for music since he was little. He started playing piano at the age of six and guitar at nine. He enjoys playing piano duo with his dad and guitar/violin duo with his brother Aaron. In addition to music, Ethan is a creative Lego builder and talented tennis and chess player. He has demonstrated strong sportsmanship in all the games/tournaments and great potential to be a charismatic leader.
Jaden Li
Member
Jaden is a current first grader in Basis Oro Valley. He started playing piano at the age of five and cello at six. He is also interested in exploring other musical instruments like drum, harmonica, recorder and ukulele. Besides, He is passionate about playing chess, tennis and golf. One of his favorite after school activities is to play ping pong with grandpa and grandma.
Rita Cai
Member
Rita Cai is a sixth grader currently attending Basis Tucson North. From a young age, she developed a passion for Chinese culture and started fumbling with the elegant strings on the Gu Zheng when she was five. Around that time, she started formally learning the instrument with a famous Chinese Gu Zheng performer, Jing Xia. From then on, Rita persisted in learning and practicing this classic instrument. Gu Zheng is the well-known "the Most Beautiful Sound of the East" with a long and reaching history of over 2,500 years. Rita has performed at various places and programs, even being framed in the Tucson Daily News. She enjoys letting the sounds of elaborate Asian tunes flow through her ears or playing a striking Western composition on the famed Eastern instrument. Through Gu Zheng, Rita can better express her emotions. Gu Zheng also gave her a key to unlock more doors to this world and a superior understanding of this world and herself. Rita hopes that from Notes of Hope Youth, she can share her love and passion for music to make a brighter world with "the Most Beautiful Sound of the East."
Jaden Wu
Member
Jaden is a current junior at Basis Oro Valley. He began piano at around age eight and though he disliked it at first, he has grown to love the instrument. (In recent competition he placed sixth in the 2021 TMTA Merit Scholarship as well as honorabe mention at ASMTA honors recital) Through Notes of Hope Youth he hopes to build a connection through the music he plays and to bring joy and meaning to the lives of seniors in our communities.
Featured Guests
The UofA Trio
This trio performed a special hour-long concert at The Forum at Tucson! Pianist Nayeli Jimenez (left) is a college freshman, the founder of non-profit organization SUIT, and a TJS and TPYO alumnus. Violinist Isaiah O'Mack (middle) is a college junior and member of the Tucson Repertory Orchestra and Arizona Symphony Orchestra, and a TJS and TPYO alumnus. Violinist Qianqian Zhang is a college sophomore, member of the Tucson Repertory Orchestra, Founder of Masha Quartet, luthier behind Gangstagrass's storh fiddle, and a TJS alumnus.
Fangfang Li
Fangfang Li conducts the Tucson Symphony Society. He is a renowned conductor and University of Arizona alumnus. Mr. Li graduated from the University of Arizona School of Music in 2003 and is now involved in the school's doctorate program. Mr. Li is the Principal Conductor and Artistic Director of the Beijing Wind Orchestra , and is currently an Artist/Conductor In-Residence with the Cincinnati College - Conservatory of Music.
Rainbow Xu
Rainbow Xu graduated from the Xi'an Conservatory of Music. She is a professional flute player in the Beijing Wind Orchestra.
Former Members
We would like to recognize our former members for their hard work and contributions!
April Zhang
Co-founder
Hannah Zhang
Co-founder
Hannah Wu
Member
Pranav Nair
Member
Michael Xia
Member
Julianna Schrader
Member
Rosie Chen
Member